House Painting & Carpentry Work
Serving the Saint George, Utah Area
Have you noticed that the color of the walls, ceilings, or trims is fading? Adding a clean splash of color to your home's interior can greatly enhance the value of your biggest investment! Delivering flawless painting services to the Saint George, Utah area, Sterling Craft Construction has become a leading Painter in Saint George and Carpenter since 2018. Our painting experience is unmatched among the competition, and our customer satisfaction is what makes us stand apart.
Our Saint George painters offer a variety of painting services, including:
Finish Carpentry & Carpentry
And so much more!
---
Call for a FREE Quote
Dial Area Code first please.
---
Painting home interiors in Saint George is our specialty! We know the most important part of any painting job is proper prep. Time and time again, we are called to paint house interiors in Saint George that are starting to crack, peel, or were painted unevenly. This is often due to inadequate preparation of the surface the last time they were painted. Painted walls and ceilings will also slowly dull over time. Don't deny yourself the rejuvenated space you deserve! Each room of your home is unique and beautiful, and it deserves a fresh, clean, even splash of color. With Sterling Craft Construction's team of skilled Saint George painters, we will work with you to pick out colors that best fit your style and fit your budget. Whether your vision is a subtle light gray or a bold blue, we are here to help create the atmosphere you're dreaming of!
Whether you're looking to enhance the look of your cabinets by painting them a cool tone of blue or a subtle, light hint of grey, Sterling Craft Construction specializes in painting cabinets to fit your style and desired look. Painting your Saint George cabinets is a great way to get a beautiful set of cabinets for a fraction of the cost of replacing them! We will also help you choose the best finish to ensure long-lasting results. With your cabinet painting project, the professional painting crew at Sterling Craft Construction will strive for perfection and offer the highest level of workmanship. Call us at (435) 271-6900 today!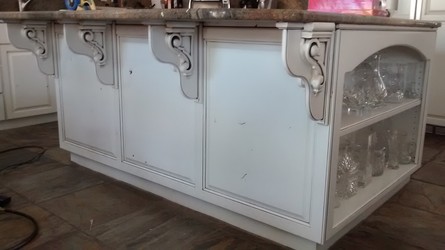 Looking for a handyman? Our craftsmen at Sterling Craft Construction are not only painters but also expert handymen. So when you're looking for an expert handyman to handle those repairs and home improvements, call Sterling Craft Construction. Our friendly crews provide maintenance, repair and a full host of handyman services in the Saint George area. No matter what your home improvement or repair needs, whether a single issue, such as fixing a broken switch, or a long list of chores, a handyman from Sterling Craft Construction is prepared to handle the work for you.
Protecting your biggest investment just got a whole lot easier! Sterling Craft Construction has been maximizing the curb appeal with fresh exterior painting of Saint George area homes since 2018. An eye-catching home will make a statement, and Sterling Craft Construction's painters will make you fall in love with your home all over again! Call (435) 271-6900 for a free quote, and we will schedule a time with you that best fits your schedule.
Decks take a beating from the weather. Ideally, decks should be painted or stained every one to two years. Otherwise, moss and mildew will grow in the cracks and pores where water collects. Our Saint George painters prepare decks by first replacing damaged or rotten wood and then pressure washing the decks to remove mildew, mold, moss, and dirt. Then one or two coats of a waterproof deck paint or deck stain is applied. Suddenly the deck looks like new again!
---
Call for a FREE Quote
Dial Area Code first please.
---
Sterling Craft Construction: Affordable, High Quality Painting in the Saint George, Utah Area.